We develop and operate a range of platforms and systems to support applications in marine ecology, geology, archaeology and robotics research.
---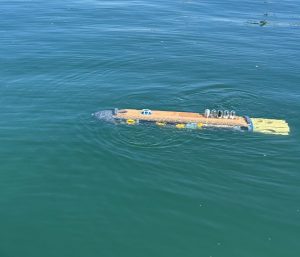 The Seeker AUV has been developed in-house at the ACFR. It is designed to capture high-quality stereo imagery in difficult to reach areas. It is two-man portable and hover capable. It can be deployed and recovered from both small and large vessels. It is a modular platform allowing quick and efficient sparing.
Seeker AUV on the surface.
---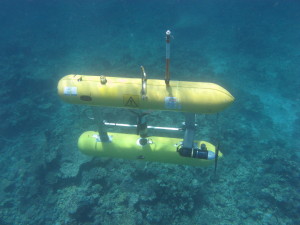 The AUV Sirius is our workhorse platform. It conducts most of the surveys associated with our IMOS AUV Facility program. This vehicle is a modified version of a mid-size robotic vehicle called Seabed built at the Woods Hole Oceanographic Institution.
---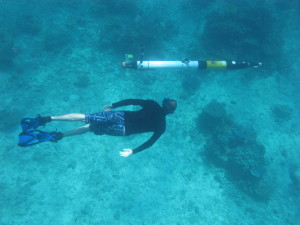 Our Iver 2 AUV is built by Ocean Server in the US but has been extensively modified to include a full suite of oceanographic instrumentation and high-resolution stereo imaging systems similar to those used on Sirius.  The vehicle is primarily used for testing and validating novel control architectures and imaging capabilities from small form factor vehicles.
---
Diver Held Stereo Imaging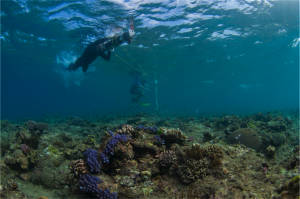 Our diver held stereo imaging system is capable of collecting data similar to our more sophisticated AUV systems but is deployed by human operators.  We use the stereo imagery collected by the platform to reconstruct the path of the diver and detailed, 3D models of the seafloor. We have recently been developing a standardised technique that we call a reef-record for collecting this imagery in a robust and repeatable manner.
---
Deepwater Stereo Imaging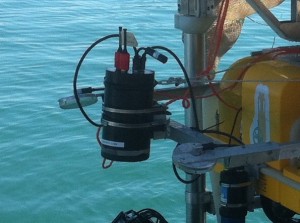 We have also developed a deepsea stereo imaging system capable of being deployed to depths of 2000m. This system has been used on a variety of AUV, ROV and manned submersible platforms.
---
Remote Operated Vehicle
We have recently acquired a small vLBV300 Remotely Operated Vehicle (ROV) from Seabotix.  This vehicle is intended to support research in improved underwater imaging as well as intervention operations.  The vehicle will also assist with AUV operations.